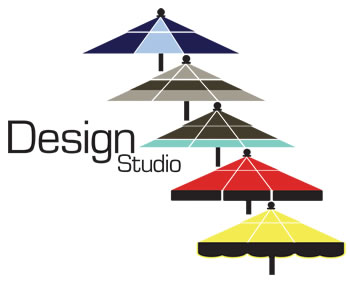 Looking for something truly unique? Custom design your own market umbrella with the alternating panel, double wind vent, edge trim or valance! The design options are endless with any Sunbrella fabric!

Note: Designer covers are available in Sunbrella fabric only. Allow additional lead time (up to 6 weeks) for any custom design cover. See our 2023 suggested retail price list for pricing on designer covers.
Alternating Panel

Double Wind Vent

Edge Trim

Valance Scallop

Valance Straight

Silk Screen
Alternating Panel


Color coordinate up to 8 Sunbrella fabrics to create a unique designer's touch. Add a double wind vent and twist the vent for a one of a kind look!
Double Wind Vent


"Sandwich" two coordinating Sunbrella fabrics or use one fabric throughout! The double wind vent aids in allowing more wind to pass through the umbrella in windy areas.
Edge Trim


Coordinate two complementary colors to create a unique fashion statement! A 4" band of Sunbrella fabric is applied to the end of the panel to create this trendy look.
Valance Scallop


The scallop valance is a modern twist to the classic valance look. Color coordinate the look with one of our Sunbrella bindings.
Valance Straight


Achieve the classic European cafe look by adding a decorative valance to the panels. Use one color throughout or coordinate two colors to complete the design!
Silk Screen


Expand on your own branding with custom silk screening on your umbrellas. Ideal for cafes and restaurants to showcase your logo and create more brand awareness. Silk Screening is quoted on an individual basis upon review of artwork and quantities desired.